I need to buy a vacuum cleaner
---
Problem
I need to buy a new vacuum cleaner for my home. There's an abundance of choice and I know nothing (or little) about vacuum cleaners.
The goal of this article is to inform on the different types of vacuum cleaners, the different features to consider, and give examples of those.
Vacuum cleaner usage
To know what to look for in a vacuum cleaner, it's good to consider what its usages are and how it's going to be exploited.
The main use of the vacuum cleaner is, of course, to clean dust and debris off the floors and other surfaces using sucking.
Vacuum cleaners need to be able to reach everywhere including hard to reach spots such as:
Corners
Above baseboards:

Under furniture
Ceilings (e.g. to suck spider webs or dust out of lamps)
Spots the vacuum cleaner can't touch directly such as inside your computer, the refrigerator's coils, inside your toaster and other unreachable spots that gather dust:

They need to suck dirt out of smooth surfaces (e.g. laminate, tiles, etc..) and non-smooth ones (e.g. carpets, furniture, computer keyboard, etc...).
Notable types of dirt they need to be able to handle are:
Fine dust
Pet hair (stuck on carpets or your pet's bed)
Vacuum cleaners need to be dragged or carried around the house all the time during cleaning.
With corded vacuum cleaners, you'll have to change outlets every time you run out of cord. Also, consider whether there are distant places you'll need to clean that have no outlet nearby.
Vacuum cleaners need to be stored somewhere.
Worth considering is noise generation especially if you have a baby in your home (besides. it's never too late to break a glass).
Except inside the house, consider outside usages, such as cleaning your car.
Health considerations include how well the vacuum cleaner traps dust and filter allergens such as pollen.
See the features below to see how else can a vacuum cleaner help you clean.
Other usages include:
Mattress inflation
Fix dents in your carpet by wetting them and then sucking on them to straighten the fibers
Vacuum cleaner features
Below is an extensive list of vacuum cleaner features.
Suction power1
The vacuum cleaners have the following characteristics that define suction power:
Airflow - generated air volume throughput. Measured in liters per second (denoted as l/s)/cubic feet per minute [ft³/min]
Airspeed - the speed of the airflow. Measured in meters per second [m/s] or miles per hour [mph]
Suction, vacuum, or water lift, in pascals [Pa] or inches of water

The suction is the maximum pressure difference that the pump can create. A typical domestic model has a suction of about negative 20 kPa. This means that it can lower the pressure inside the hose from normal atmospheric pressure (about 100 kPa) by 20 kPa. The higher the suction rating, the more powerful the cleaner. One inch of water is equivalent to about 249 Pa; hence, the typical suction is 80 inches (2,000 mm) of water.

Watts

Denotes how much power the vacuum cleaner consumes
Usually, the only specification stated, however, the rated input power does not indicate the effectiveness of the cleaner, only how much electricity it consumes. See "Airwatt" below.
Many North American vacuum manufacturers give the current only in amperes (e.g. "6 amps") and the consumer is left to multiply that by the line voltage (e.g. 120 volts) to get the approximate power ratings in watts
In the EU, after August 2014, due to EU rules, manufacturing of vacuum cleaners with a power consumption greater than 1600 watts are banned, and since 2017 no vacuum cleaners with wattage greater than 900 watts are permitted.

Airwatt

Output power, i.e. the amount of airflow produced based on the amount of consumed input power (watts).
Unfortunately, most of them are not specified by the manufacturer.
Dirt container type
What kind of container stores the dust
Bag
Bagged vacuum cleaners are the ones that store the dirt in a bag.
The bags are thrown out once they're full and replaced with a new bag.
The pros of the bags are that they allow throwing out the gathered dirt without spilling any of the fine dust out.
Also, the bags take part in the filtration system of some vacuum cleaner models.
The cons are that bags are а consumable and they can be rather expensive, so do ask for the price before you buy a bagged vacuum cleaner. Moreover, you will probably need to buy them from the manufacturer (or its retailers) as the bags are usually specific to the vacuum cleaner. This means that they're not as readily available and you'll be dependent on that company and their decisions on how long they'll make the bags.
When the bag gets near full, this diminishes the suction power of the vacuum cleaner until the bag is replaced. To mitigate that, some manufacturers (such as Miele), produce specific bag designs that allow for better and more even filling of the bag.
Vacuum cleaner bags don't allow you to see how full they are so consider buying a vacuum cleaner with indication on how full the bag is. This also makes it harder to find items that the vacuum accidentally swallowed.
Additionally, bags are yet another waste product that can't be recycled and don't fully degrade (as it usually contains plastic parts).
Bagless
Bagless vacuum cleaners usually have plastic containers that contain the dirt.
The pros of bagless vacuum cleaners are that you don't need to buy any consumables for them. This also means that they can be cleaned out as often as needed and there's less waste product.
Also that they're transparent and allow you to see how full the container is as well as throw them out as often as you like.
The biggest problem of the bagless vacuum cleaners is that, when emptying them, the dust goes up in the air and you may inhale it if you don't take extra precautions.
Combi
These are the type of vacuum cleaners that can work both with bag or bagless.
Water filter
Some vacuum cleaners use containers filled with water to contain the dirt.
The pros of these are that the water filters are very good at filtering out the debris and dust from the incoming flow. They seem to be almost as good as the vacuum cleaners with HEPA filters2, however, with less consumables.
Scents can be put in the water which would freshen up the air.
Also, these types of vacuums are suitable for cleaning wet spots. Other types can't as that would dampen the filters which will reduce the suction power and also may damage the motors which are not designed to work with liquids.
Cons are that these are generally heavier because of the water. This makes them not as good taking them up and down stairs or for cleaning stairs for that matter.
These type of vacuums tend to be more bulky which makes them harder to store.
Also, cleaning them might be a bit mucky.
Cleaning type
Could be dry or wet
Hard floor cleaning class
A-G
Carpet cleaning class
A-G
Noise level
measured in decibels [dB]
Suction power regulation
Helps with cleaning light objects such as drapes
Air filtering
HEPA, Micro, EPA, Hygiene filter, Miele airclean, Air-clean, Allergy filter, Miele active airclean, Water, Allergy plus, Active-air-clean, S-class filter, Miele airclean plus, Carbon, GORE CleanStream filter, MEGAfilt Supertex
+ reusable
Filtration technology
Traditional filtering, Cyclonic, Cyclonic/filtering, Aqua filtering, Multi cyclonic, Multi cyclonic/filtering
Particle/dust emission class
A-E
Accessories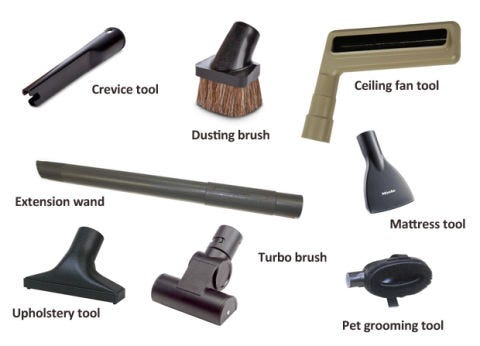 For an explanation of the above attachments refer to Every Vacuum Attachment, Demystified
Class A bashes the carpet for better cleaning. It is noisier though.
Dusting brush aims at using it on delicate surfaces (such as furniture) without scratching them.
Accessories storage
Cleaning radius
+ hose length and cord length
Self-propelled
https://allgreatvacuums.com/self-propelled-vacuum-cleaner/
Tube material
Number of wheels & wheels material
Rubber, Plastic
+ some have shock aborbers
Energy rating
Tube type
Telescopic, Flexible, Fixed, Slide, Click
+ some are cone-shaped
Full bag indicator
Motor overheat indicator light
Water level indicator (when applicable)
Air flow indicator
Carrying handle
Ergonomic handle
Headlights
Dirt sensor
Blowing capacity
Stairs adaptiveness
Some vacuum cleaners are designed to rest on the stairs without falling (kenmore progressive canister)
Price
Weight
Measured in kilograms [kg] or pounds [lb]
Dimensions
height, width and length measured in centimeter/inches
Carpet-height adjustment
Miele has manual
Retractable cord
+ Miele has a single push retract all cord
PERFORMANCE INDICATOR?
Outlook
How it looks
Where to look for reviews:
Sources: